Cowboy-casual charm and elegance, perfect weather, and sharing of support and love between family and friends marked the WannaBee Campground Wisconsin Dells wedding of James and Jodi September 19.
Jodi looked absolutely aglow and so beautiful in her dress with black lace trim, elegant veil and stunning necklace and bracelet.
From Jame's straight-edge shaving routine to the silhouette of his hat, I also enjoyed making portraits of James the way I thought Jodi would want to see him.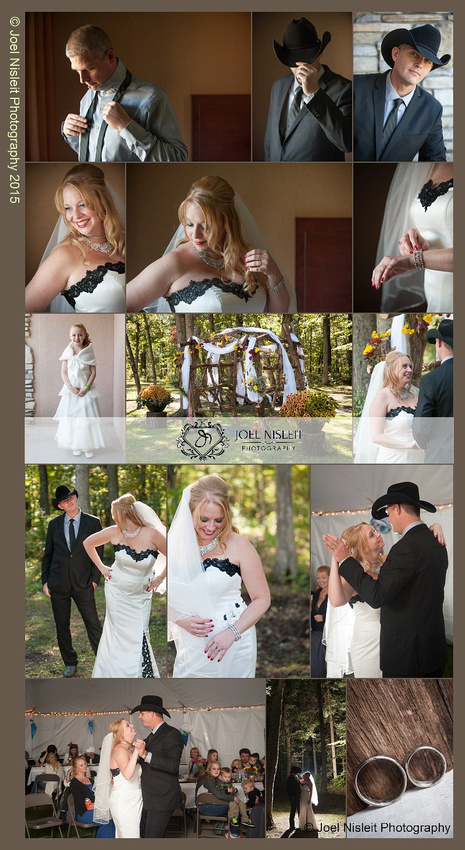 Wisconsin Dells Wedding of Jodi + JamesWannaBee Campground Wisconsin Dells wedding pictures of Jodi & James, sample.
One of my favorite memories of the wedding was seeing the happiness on the couple's faces throughout the ceremony, and also watching them get lost in each other's eyes during the first dance.
Two elements unique to this wedding were the natural wood arbor, under which the ceremony was held, which Jodi's father made by hand, and James handmade the wedding rings from titanium!
JJ's Roadhouse Karaoke & DJ Co. was a great help in getting people together for a large group overhead shot after the ceremony, as well as family formals, and he kept things running smoothly all night.
The food was delicious and I got to try some Texas favorites near and dear to the couple, including cowboy beans, brisket (yum) and a sweet potato pie of James' recipe (you converted me James).
It was a joy just watching the couple and their family live every moment to the fullest and celebrate the momentous day. They reminded me of why I really do this: to serve and preserve the memories of families on one of their most important occasions. Thanks so much for making me your Wisconsin Dells wedding photographer!
Vendors:
Joel Nisleit Self Portrait
Self portrait of studio owner Joel Nisleit. Joel's skills enable him to capture portraits like this in any location, from home to a parking garage.
Joel Nisleit is a Wisconsin wedding photographer with designer flair searching for his next awesome couple right now. Ready to love your pictures and your photographer? Contact Joel for services and pricing or to set up a meeting.