Escaping the picture mills to stay client-focused and independent
I have no aspirations of becoming a giant corporate talent brokerage with a dozen associate photographers and sales reps. The only way I know your wedding will be handled with the greatest care is to be in the trenches with you.
When I worked for large photography brokerages like The Pros, Wedding Bug, Edward Fox (George Street is similar), they did a decent job, but as a photographer I saw that their client-disconnect models caused some problems, such as couples running an hour late for dinner because they didn't have the right help planning for pictures. Also, one of the companies actually told me speed was more important than quality.
I couldn't stand being part of a system in which quality took such a back seat, photographing weddings of couples I'd never met, so I went rogue and focused full-time on my own clients starting in 2014. While I don't do as many weddings as the picture mills, couples who want a photography experience appreciate the extra attention and focus on quality.
All of my products are sourced in the United States. The albums are from a fine custom album builder in New York. My color correction team is based in Oregon. The person who culls the images, or selects the keeps, is based in Waukesha, Wisconsin.
I'm not nutty about being green or local, and I think digital has probably a bigger carbon footprint than a printed album, but I believe in supporting local and green when possible.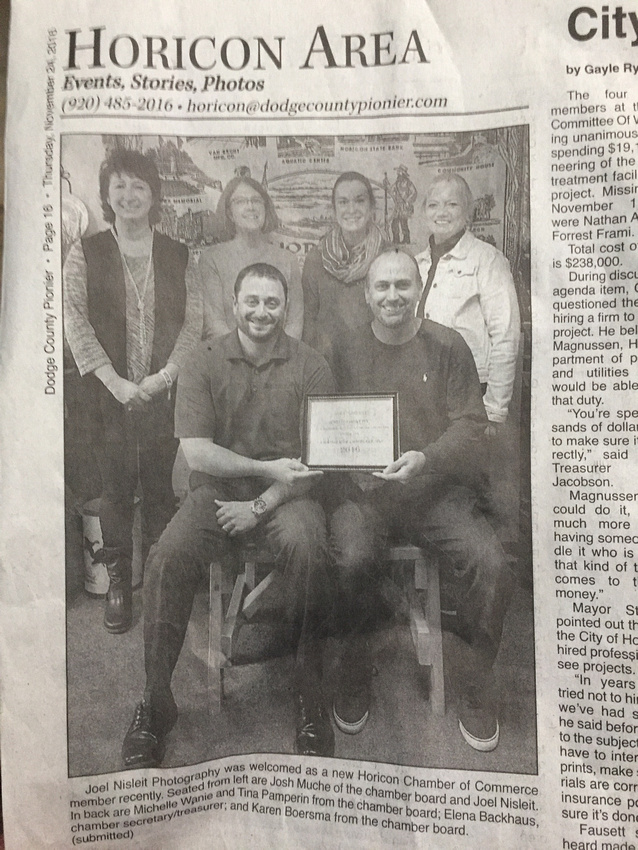 Above: I'm welcomed to Horicon Chamber of Commerce (by the newspaper I once photographed and wrote for)
Professional background
You might understand more about my skew toward glamour and classical photography when you consider as a photojournalist I had become burned out shooting everything from town meetings to sports, accidents, grip and grins and miscellaneous events and activities. I wanted more than grit and reality, and weddings allow that.
From 2004 to 2010, I worked as a photojournalist/reporter for the Dodge County Pionier in Wisconsin, where I was an innovative photographer, page designer and writer, winning Wisconsin Newspaper Association awards in those categories in 2007 and 2008 (click here; General News Photo, Group E).
I studied writing at Lakeland College, became published in two literary magazines, and graduated magna in 2003 with the Outstanding Student in Writing award. My senior year I was also editor of the college newspaper The Lakeland College Mirror, which I helped usher into full color and more advanced photo page designs.
When I was a kid, I wanted to be like my dad, who loved to photograph our travels. When he introduced me to an SLR camera for the first time when I was about 10, I became fascinated with learning what it all did and have been studying and practicing ever since.
As someone entrusted with your wedding, I believe in being an active, fully-trained professional, which is why I'm currently a candidate in the Professional Photographers of America Certified Professional Photographer program.
As a proud member of the Horicon Chamber of Commerce, I help support local businesses and find ways to give back to the community through photography education.
I've spent hundreds of hours studying, training and honing my craft at all levels. I continue to study the latest business and photography techniques to improve my service and results and have trained with the best photographers in the world, including Jerry Ghionis and Doug Gordon.
I began studying and practicing wedding photography in 2012. I briefly contracted with American Wedding Group and Edward Fox Photography before producing fairy tale portraits for my own clients full-time in 2014.