Jon & Heather Kroll are a great relaxed couple who had a lot of fun on their wedding day June 21 and despite some rain after the ceremony had a beautiful evening for the reception at Beaver Dam Country Club.
Getting hair done at Mane Stage Salon in Beaver Dam, WI.
Back view of hair detail.
St. John's Lutheran Church, Beaver Dam, decorated for the ceremony.
A quiet portrait of Heather holding still for makeup.
The girls preparing the dress from Edith's Bridal, Fond du Lac.
Close up of the tying.
Mom straightening the veil and giving her daughter one last look before getting married!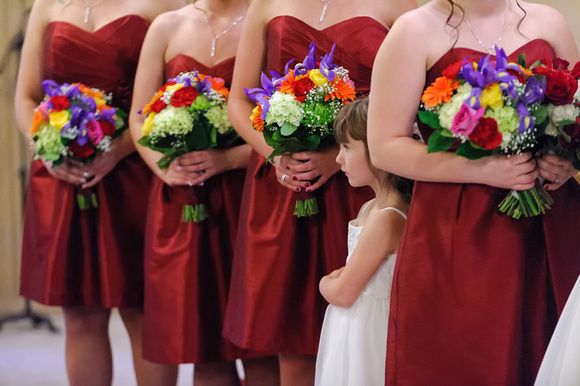 Heather's daughter looks off to the side as the bridesmaids watch the ceremony.
The boys suggested a dramatic Godfather look, which turned out to be a cross between "Goodfellas" and "Wall Street" posters. Some black-and-white finishing enhances the mood.
An intimate portrait created by shaping a spontaneous found moment into a designed image. Big soft light is coming from a 64-inch umbrella off camera. Due to rain outside, I made most of the portraits in the church. I made this image on the altar, but creative lighting and processing enables you to focus on the emotion of the moment rather than the environment. If you rely only on photojournalism, or beauty to create itself, how can you get anything interesting on an altar?
Another fun pose created, not spontaneous. Too many photographers rely on the circumstances to give them beautiful moments, light and locations. The problem is they can't do anything when they're stuck inside at an altar because it's pouring rain outside. You need a photographer who can design when given nothing. Heather put a lot of effort into bending for this one, but again it's something you can do anywhere and make look good.
Cake by Recheck's and floral design by Gene's Beaver Floral in Beaver Dam, WI.
When the storm broke, I was able to capture Jon & Heather enjoying some personal moments in beautiful light with the gorgeous Beaver Dam Country Club grounds in the background.
I like to use a three-point lighting system to ensure beautiful dance moments. Thanks to my systems for lighting and focusing, I never miss, even in the darkest dance hall.
I take advantage of personal elements for ring shots whenever possible. Each ring shot includes a flower from the couple's arrangements.
Congratulations Jon & Heather Kroll! A beautiful wedding and thanks for choosing me to photograph it. For wedding photography, please contact Joel at 920-219-2020 or email.