What was the perfect "solution" for Evan and Shannon's wedding at the Hilton Milwaukee, Wisconsin on April 30? Green of course!
Instead of a sand ceremony, the couple of scientists poured colored liquids into a jar, creating a new color symbolizing both of their contributions to a successful marriage.
Hilton Milwaukee wedding ceremony venueGetting married at the Hilton Milwaukee wedding venue.
Evan & Shannon's Ceremonywww.joelnisleitphotography.com
joel@joelnisleitphotography.com
Anyone who looked at Shannon immediately knew she'd found "the dress." During one portrait at the Hilton, one of the bridesmaids commented that Shannon looked "like 20's glam." The lace details, the sequins, the beautiful train and the classic veil and earrings -- Shannon rocked it all the way!
Hilton Milwaukee bridal portraitsBride getting ready at Hilton Milwaukee, details of wedding dress, veil and flowers
Bridal preparations in the Juneau room were idyllic with lots of space, nearly-full-length windows, velvety tasseled curtains, sconces and a large mirror offering more chances for gorgeous wedding preparation photos than could possibly be made in one day.
Bridal preparationsBride getting ready in Hilton Milwaukee city center Juneau room, with flowers, wedding dress, veil, and bridesmaids dresses
Any groom would love getting ready in the Oak room, with its rich wood paneling, dramatic chandeliers, spaciousness and large windows. If you want dramatic wedding photography in Milwaukee, the Hilton is a dream.
Groom getting readyGroom getting ready at Hilton Milwaukee wedding venue, Wisconsin. Featuring black suits, bow ties, best man, groomsmen, chandelier
With a stop for wedding portraits at the Milwaukee Art Museum, the women showed off their deep blue, knee-length dresses covered in lace. The bouquets featured a fresh spring assortment of whites, pinks and purples.
Milwaukee art museum wedding picturesBridal party having fun at Hilton hotel and Milwaukee art museum, featuring bridesmaids, wedding party, groomsmen, flowers and dresses
Shannon, Evan and I knew early on we were a good fit because we all love The Walking Dead, Star Wars, Star Trek. From the TV show theme songs during their processional and first dance to the Periodic Table of Seating, it was a blast to be part of every minute and an experience I'll cherish.
To make them kiss at the reception, Shannon and Evan asked that you be able to name a famous scientist. The easiest choices were Tesla and Newton, the names of their dogs (who were the flower girl and ring bearer). Find a way to make "the kiss" a game for your guests.
Hilton Milwaukee wedding receptionHIlton Milwaukee wedding reception venue is featured, with cake from Canfora Bakery, Music Box entertainment, science and microscope table, head table and ring closeups
Best milwaukee cake bakersCanfora Bakery cake
I go all out for my clients, including the special effects shots. Shannon and Evan wanted the wedding party to be running from AT-ATs from Star Wars. We also made some light saber duel shots at night.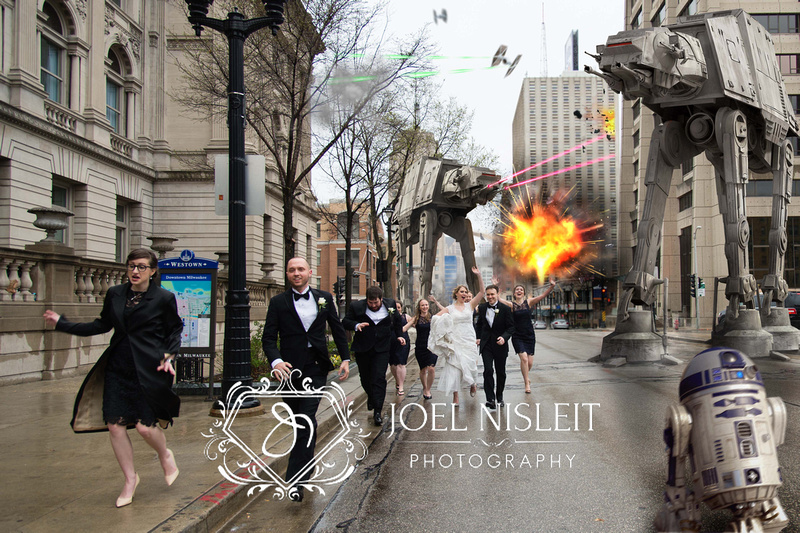 Star Wars Attacks!Cool Star Wars wedding party picture, Milwaukee, Wisconsin in front of Milwaukee Public Library.
The glamorous wedding aside, it was when I was getting my lights together and Shannon and Evan started playing with their light sabers like a couple of middle school kids and talking about how they would crush each other as Jedi or snipers that I got a glimpse of how great they are for each other.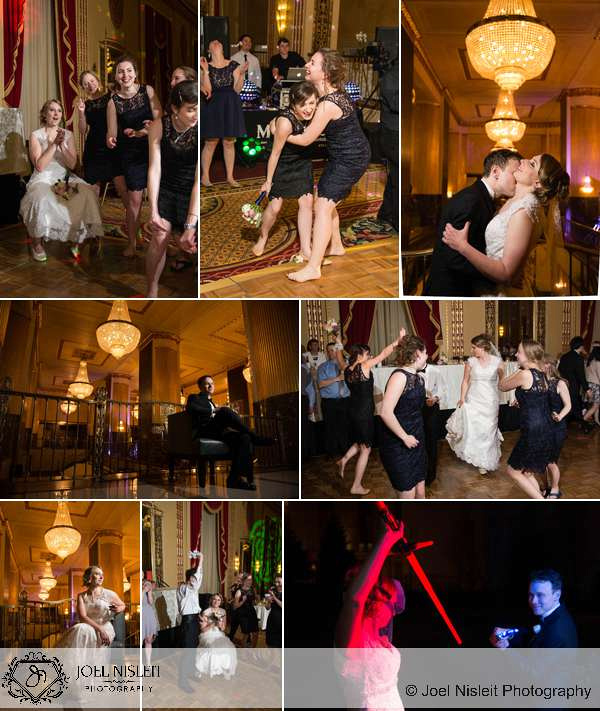 Wisconsin wedding dances and wow portraitsBride and groom enjoy their wedding dances, bouquet toss and have fun creating some unique portraits featuring Star Wars light sabers and the opulent vintage interior of the Hilton Milwaukee.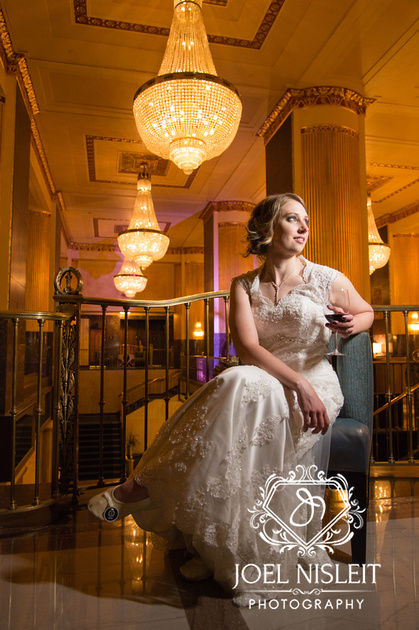 Vintage glam wedding photographyBridal portrait at Hilton Milwaukee
The Hilton in Milwaukee is truly one of the best Wisconsin wedding venues for your ceremony and reception, with friendly and helpful staff. If you're looking for the best Milwaukee wedding DJ, videographer, officiant or baker, check out the vendors below.
I had so much fun at Shannon and Evan's wedding. Congratulations to this fantastic couple who are just perfect for each other. Thanks so much for having me as your wedding photographer!
Special thanks to the following vendors:
Joel Nisleit with the bride and groomHilton Milwaukee Wisconsin wedding
Joel Nisleit Self Portrait
Self portrait of studio owner Joel Nisleit. Joel's skills enable him to capture portraits like this in any location, from home to a parking garage.
Joel Nisleit is a classic, romantic Wisconsin wedding photographer making history through stories you'll love to pick up and experience long after the wedding. Chat with me today.